Profile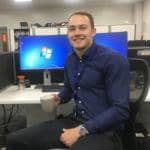 Oliver Moore
Curriculum Vitae
Education:

St Joseph's RC Primary School, The Cherwell School Oxford, University of Liverpool

Qualifications:

Mechatronics & Robotic Systems BEng

Work History:

Sainsbury's, waiting & front house jobs through agencies.

Current Job:

Graduate Electrical Engineer

My connections to STFC science and technology:

UKAEA is partnered with STFC.
About Me

I am new to the industry having graduated with a Bachelor's degree in Mechatronics & Robotic Systems in July 2018, I am on a graduate scheme at UKAEA in OXfordshire.

Read more

Hello I am Ollie, I am a 21 year old engineer currently working at RACE, UKAEA, located in Culham, Oxfordshire. I was born and raised in Oxford, moved away to Liverpool to study and have now returned home for the exciting position I have landed at RACE. Yes this does mean I reap all the benefits (and flaws) of living at home again with my parents again.

I take considerable interest in football, I am a proud part time Arsenal fan. I believe if I can handle the stress of being an Arsenal fan, I can handle anything.

Read more

I am currently beginning my career at RACE, working on exciting projects which through Remote Handling (RH) technologies will support our civilisation's progression into a Nuclear Fusion era! My long term goal is to be at the forefront of future engineering and innovation, taking a key roll in research and development to provide solutions to the world's engineering problems. A large part of my work at the moment is supporting the Electrical Design for a section of the European Spallation Source research facility being built in Sweden.

My degree is titled "Mechatronics and Robotic Systems". It is based on Electrical Engineering with some of the elements of Mechanical Engineering and is accredited by the IET. The beauty of this being that I have studied many topics of Engineering of which all are in my interest, and which I would have missed out on had I have chosen one of the two degrees. These include some of the structural, and dynamics topics of mechanical, along with the majority of the Electrical Engineering modules.

My Typical Day: Designing Electrical Circuits which connect various devices

Read more

Currently, I design a lot of electrical circuits/systems with devices connected together to achieve a task. This includes a large amount of varied work.

Currently, on a day to day basis, I am designing electrical circuits for various functions within a project. This means using CAD tools to design these electrical systems and produce nice drawings for technicians to then install. CAD stands for Computer Aided Design, this basically means using fancy (and really expensive in some cases) computer programs to draw these devices and circuits with accuracy and with the computer working out all the hard stuff. An example of 'the hard stuff' being lists of materials, devices etc. that are needed, as well as dimensions of the devices and how they will physically all fit together.

What I'd do with the money

I would like to donate it to Save the Children or another similar such charity as their work is something which is close to heart.
My Interview

Tell us a joke.

What concert costs 45 cents? 50 Cent featuring Nickelback.
My profile link:
https://energym19.imanengineer.org.uk/profile/olivermoore/
---
---