Profile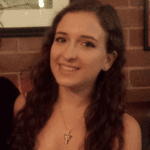 Leah Morgan
I can't believe I won! Thank you to all the students and engineers who took part - it's been so much fun :)
Curriculum Vitae
Education:

Landau Forte College, University of Sheffield

Qualifications:

MPhys (Physics), A-Levels (Physics, Maths, Further Maths)

Current Job:

Graduate Diagnostic Mechanical Engineer

Employer:

United Kingdom Atomic Energy Authority

www.ccfe.ac.uk
About Me

I'm a physicist-turned-engineer and I'm fresh out of uni. I love circus, physics, and fusion energy!

Read more

I currently live in Oxfordshire with my friend, Hannah, but my hometown is Derby. At the weekends I either travel to Sheffield to see my boyfriend or to Derby to see my parents. At some point I should probably also visit my sister in Birmingham!

I spend most of my free time at pole fitness and yoga classes, and I would like to take up trapeze, hoop, and silks! I'm also teaching myself to handstand but unfortunately my balance is terrible…

I love trying new food (especially since going vegetarian 🌱) and re-reading the same books over and over again! I'm currently re-reading the Night Circus and would recommend 🙂

My Work

I look after all the important equipment that physicists use to create the hottest place in the solar system (next door to my office!).

Read more

At UKAEA in Oxfordshire, we have two tokamaks (JET and MAST-U). These are fusion reactors – not to be confused with fission reactors which we already use in nuclear power stations. In a fusion reactor, hydrogen gas is heated to around 150 million degrees (10 times hotter than the centre of the sun). When the hydrogen atoms get this hot, they begin to combine to form helium – this is called FUSION. When atoms fuse, lots of fusion energy is released.

We are currently running two huge experiments to learn all about the best way to build a tokamak, so we can collect the fusion energy and use it to build a greener, safer power station!

Lots of scientists are running mini experiments on our machines, and they all have very important equipment that can measure exactly what's happening inside. My job is to learn all about this equipment so I can fix it when it breaks! I also help improve equipment we already have – soon I would like to design my own equipment to run new experiments.

I have included a photo of a mini plasma ball that some previous employees built. It's a real photo I took – it's not been edited at all!

My Typical Day: I don't have a typical day! But every day starts and ends with tea...

Read more

I am currently RO (Responsible Officer) for about 6 different projects – this means it is my responsibility to fill out paperwork, talk to physicists and technicians, and to make sure the job gets done. I follow each project from start to finish!

Usually, I begin by checking for updates from everyone I am working with, these could be from scientists, analysists, computer-aided designers, technicians, anyone working on one of my projects. There are normally lots of updates as each of my projects is in a different design stage!

From there my day can go anywhere! I'm also on the Graduate Scheme at UKAEA so I have lots of time for learning on top of my day job. Some days I get to help the technicians do some work on JET, other days I have lots of design meetings with important people, and sometimes I take part in outreach (like I'm doing now!). I like to lead tour groups or go out with the Sun Dome, which is an inflatable planetarium we take to primary schools to talk about fusion!

I've added some selfies so you guys can see just how different my days can be! The first is me standing on top of JET (I'm 3 stories up in the air and you can see the orange 150 tonne crane hovering above my head!), the second is my first installation as RO (we installed some monitors on two 1100 tonne moving concrete radiation shields), and the third is my mask fitting to make sure my head wasn't too small (it wasn't)!

What I'd do with the money

I want to bring science-y crafts and mini experiments to kids who are stuck in hospital!

Read more

I would use the money to build and design STEAM crafts and experiments, to take into children's wards. I think the children who are stuck in hospital while they are ill would really enjoy it!
My Interview

How would you describe yourself in 3 words?

Short, smart, s-curious

What's the best thing you've done in your career?

So far the best thing has been getting my first proper job! I took a big risk and moved across the country to work on JET, and I'm very much enjoying being part of something so massive.

What or who inspired you to follow your career?

I always enjoyed maths at school and I love asking 'why?', so I decided to do a physics degree. While there, I learnt a little bit about fusion and thought 'that's what I want to do', so I came to the best place in the UK to get involved!

What was your favourite subject at school?

I loved maths and performing arts (which included music, dance, & drama)

What did you want to be after you left school?

I didn't know! I remember being very worried about it...

Were you ever in trouble at school?

I used to sneak out of class to practice in the music room with the other performing arts nerds - we never got caught though!

If you weren't doing this job, what would you choose instead?

I'd love to join the circus! But unfortunately, I'm not good enough... yet.

Who is your favourite singer or band?

At the moment it's Frank Turner.

What's your favourite food?

Coconut curry tofu banh mi from Five Rivers Coffee Co. in Sheffield - literally the best sandwich ever... I want one now

What is the most fun thing you've done?

I have no idea! I've been very lucky and able to experience lots of fun things and make lots of amazing memories.

If you had 3 wishes for yourself what would they be? - be honest!

1. To be able to communicate with anyone (no language barriers) 2. To be able to make a positive difference in the world and leave it a better place 3. For fusion power plants to be up and running in my lifetime! That would be incredible.

Tell us a joke.

Heisenberg got pulled over by a traffic officer. The officer asked, "Do you know how fast you were going?" Heisenberg replied, "No, but I know where I am."
My profile link:
https://energym19.imanengineer.org.uk/profile/leahmorgan/
---
---
---