Profile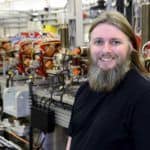 Graeme Burt
Tomorrows the big day, avoid eviction and you make the final. Good luck all
Curriculum Vitae
Education:

Duncanrig secondary in East Kilbride, then Strathclyde Uni in Glasgow

Qualifications:

I have a PhD, and a degree.

Work History:

Through Lancaster I have worked at CERN and Daresbury

Current Job:

Professor and project manager

Employer:

Lancaster University, The Cockcroft Institite of Acceelerator Science and Technology, & CERN (unpaid)

My connections to STFC science and technology:

I am funded by STFC for most of the work I do, and I have an office at Daresbury Lab
About Me

I'm an electronic & electrical engineer working on particle accelerators as well as teaching at Uni. I build machines that study Energy in its purest form.

Read more

I live in a converted Victorian psychiatric hospital in Lancaster with my wife and very chubby cat (Bear). I might be getting a pug soon. I'm originally from Glasgow and yes everything I eat is either deep fried or high in sugar. I like listening and playing metal music, and watching American football. I originally did a degree in applied physics but have been working as an engineer for the last 15 years, teaching at Lancaster University. I also work at CERN building particle accelerators, specifically on the Large Hadron Collider. Most people working on accelerators at CERN are engineers as you can't trust a physicist with such dangerous equipment.

My Work

I design and build particle accelerators, teach students, and get to play with the coolest toys (ahem, scientific instruments) humans have ever made.

Read more

Particle accelerators are all around you, you probably just didn't know. They are used to treat cancer, to dry paint in cereal boxes, to colour diamonds, to scan cargo at ports and to make electrical cables that don't melt. There are 35,000 in the world and only about 10 are for particle physics.

I design, build and test these machines, from the very large like the Large Hadron Collider (24km) to my little 10cm cargo scanner. My small team of engineers work on them all. Particularly I work on radio frequency systems, similar to what you have in Wifi transmitters but far more powerful. These are used to accelerate charged particles.

My Typical Day: Every day is different, I might be in a test bunker at CERN, teaching students in Lancaster or designing a new accelerator with my collegues at Daresbury Laboratory in Warrington.

Read more

No day is typical, but I will give some examples

I recently spend a day in the CERN RF bunker at their super proton synchroton, taking measurements of the beam with one of my students. We were testing a new type of system so we didn't know what to expect so we had to take data on the voltages induced by the beam on an antenna, then discuss what we thought we saw, then revise a code to capture the data and reanalyse. To me it was very exciting as we were looking at brand new results that no one had seen before.

I often spend time designing new particle accelerators, right now I am trying to design a low cost radiotherapy system to be used in Africa where they don't have good access to radiotherapy machines due to the high costs. I have a bit of software that works out how much acceleration I get for a given power, and I have to optimise the geometry using my experience to make it as efficient as possible. I'm off to Botswana in March to chat to the local hospitals about their specific challenges.

What I'd do with the money

I'd build a mini particle accelerator to take to schools.

Read more

I previously made a magnetic accelerator that shot magnetic 'particle' (ball bearings) at a target using large magnetic fields, stored in capacitors (camera flash chargers) and released it very quickly. It was great but very dangerous. I would like to make one thats safe to take to schools and open days.
My Interview

How would you describe yourself in 3 words?

Energetic but focused

What's the best thing you've done in your career?

Helping to treat cancer with radiotherapy

What or who inspired you to follow your career?

A mix of family members, we had a lot of engineers

What was your favourite subject at school?

Physics

What did you want to be after you left school?

Electrician when I left secondary, viking when I left primary

Were you ever in trouble at school?

Yes, lots, I was bored as I have too much energy and caused lots of trouble.

If you weren't doing this job, what would you choose instead?

I'd like to say drummer but I probably wouldn't, probably an electrician

Who is your favourite singer or band?

Nirvana

What's your favourite food?

Chocolate

What is the most fun thing you've done?

Got married in Vegas in the little white chapel

If you had 3 wishes for yourself what would they be? - be honest!

I'd give them to my wife, I'm pretty content with my lot in life

Tell us a joke.

One atom says to another "I think I lost an electron?". The other one asks if he is sure, and the first atom responds "Yes, I'm positive!"
My profile link:
https://energym19.imanengineer.org.uk/profile/graemeburt/
---
---