Profile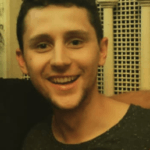 Aleks Sokol
Curriculum Vitae
Education:

I went to St.Johns Academy in Marlborough for my Secondary School, then New College Swindon for A-Levels, then University of Southampton for Bachelor's, and finally University of Strathclyde for Master's

Qualifications:

A-Levels, Bachelor of Engineering in Electrical and Electronic Engineering and a Master of Science in Wind Energy Systems

Work History:

Subway, Waitrose, Hoare Lea and now UK Power Networks

Current Job:

UK Power Networks

Employer:

I work for UK Power Networks (UKPN) who are a Distribution Network Operator. What this basically means is that they make sure everyone's lights stay on in the London area as well as East and South East parts of England.
About Me

I love burgers, pizza, playing in my band, gaming, extreme sports...Oh! and making sure everyone can use electricity!

Read more

I'm 23 and graduated from university in September 2018. I live with my girlfriend in London and we are both engineers! I'm a huge fan of music and I play guitar in a progressive metal (I've probably lost you there) band. Aside from that I LOVE skiing, Thai boxing, mountain biking, scuba diving, and generally travelling (check out some pictures below of me actually doing those things 😉 ). My favourite console games of all time have to be God of War, The Last of Us and Halo 3.

I am also Polish, and I came to the UK when I was 13 (Year 8), so I speak fluent Polish and go back to see my family at least twice a year 🙂

.

My Work

I give people electricity!

Read more

Firstly I work for a company which manages and owns the London, East and South East England electrical distribution networks. Essentially what this means is that we take care of lots of cables and lots of transformers (No, not the robots!) and make sure that people's electricity works in the area that we operate.

I'm a Distribution Planning Technician for the London area which is essentially a level down in seniority to a Distribution Planning Engineer. I work in an office on a computer where I look at the London network (using different computer programs) and decide how people that need to connect their building with electricity, can do it safely without affecting people around them!

I have access to the information about everyone's electricity supply in London so if you're mean to me I can stop your electricity! (Only joking, I can't really do that 🙁 )

My Typical Day: I look at how a building/factory/housing estate can be connected to an electricity supply

Read more

Once I arrive at work after a short trip on London's underground, I make myself some granola with yoghurt and a nice warm coffee. I then login into my laptop and open up my emails to check if there is any important thing I need to take care of first. Once I have done that I will get on with a task that I most likely would have been doing the day before or have been assigned that morning.( Sometimes I will have to attend a meeting so I may not start my normal task until after it).

My tasks usually start with a request of someone wanting to connect their building/housing estate/factory to electricity. I will look at the surrounding area and see where we will be able to put a transformer and cables to connect them to the main electricity grid. One important part of what I do is that I have to make sure that other people in the area will not loose their electricity because someone else wanted to use it, so I use a few bits of software (computer programs) to do that. At the end I send a reply to my colleagues in the company to let them know if they can allow the person to connect to our electrical network 🙂

I would love to post some pictures of what I do here but unfortunately it would contain some really sensitive information and it is not allowed 🙁

What I'd do with the money

I want to show young people what the different ways of becoming an engineer are

Read more

I think a lot of young people could be more inclined to consider an engineering path if they knew what the different ways of becoming an engineer are. Although many people think you have to go to university to become an engineer it is only one way of many others!

I would spend the money on presenting at different schools on how they could become an engineer, and attempt to bring some other engineers who have taken different paths to talk about their journeys.

I would also like to hold some after school Careers in STEM sessions, where students can ask questions about what they need in order to pursue an engineering career.
My Interview

How would you describe yourself in 3 words?

Adventurous, Ambitious and Determined!

What's the best thing you've done in your career?

So far designing an apartment for a Russian Millionaire.

What or who inspired you to follow your career?

Nikola Tesla was my biggest inspiration to become an engineer.

What was your favourite subject at school?

Probably would have to be Music!

What did you want to be after you left school?

I had many different ideas of who I wanted to be just before I left, but ultimately it was either a physicist or an engineer

Were you ever in trouble at school?

Yes! Quite a few times actually ;)

If you weren't doing this job, what would you choose instead?

Most likely a professional guitar player.

Who is your favourite singer or band?

My favourite band is Meshuggah!

What's your favourite food?

Burgers!

What is the most fun thing you've done?

Skiing in New Zealand.

If you had 3 wishes for yourself what would they be? - be honest!

See my friends and family often, travel the world, take a helicopter to the top of a mountain and ski down it!

Tell us a joke.

The shovel was a ground-breaking invention. Dun..Dun... Tssss
My profile link:
https://energym19.imanengineer.org.uk/profile/alekssokol/
---
---